Using data visualizations to create user friendly apps

📈



Learn how to use data visualization to create interactive user experiences for your company's internal tools.

Kathy is a Senior Operations Analyst at Getaround, the world's largest car-sharing marketplace, with the mission to provide communities with a cost-effective alternative to car ownership.
Kathy is a self-taught Retool builder who helped centralize operations enablement for Getaround using Retool. She is passionate about shared mobility and the future of car-sharing, in particular.
Getaround used Retool to operationalize their parking location marketplace for various internal teams. They moved from google sheets into an interactive Retool app that queries from a BigQuery warehouse and validates input data dynamically. Pad is a Director of Product at Wheels, a last-mile shared electric mobility platform providing the safest and most accessible form of micro transportation. Wheels is a leader in both vehicle safety testing via R&D and sustainable transportation due to their vertically integrated manufacturing model.
Pad's career across marketplace companies such as at HotelTonight and now Wheels have given him immense perspective on building end-user friendly experiences in apps.
Pad will be sharing how Wheels used Retool to transform their internal tools from simple data tables to interactive visual apps using Retool's map component and GeoJson. Tim is VP of Product & Customer Relations at Archilogic, a company with the mission to simplify space digitization. Archilogic creates digital representations of interior spaces, building custom 3D models from floor plans. Their models can be used for everything from virtual tours to data analysis. Archilogic helps developers at companies like JLL and Ikea build apps, websites and experiences for interior space.
In his career, Tim has built and enabled a wide array of business-critical tools across category-creating companies such as Apple and Wework. Using his experiences in customer service and internal tools, he shares how Retool's custom components helped create a comprehensive business reporting structure at Archilogic.
Archilogic uses Retool to combine data from disparate sources and enable business intelligence, data visualization, and management reporting across their org. Gonzalo is the Data Lead of ThePowerMBA, a highly practical online program where you learn from World-Class Entrepreneurs, CEOs and Authors, in (+250) 15 min classes. ThePowerMBA is trying to democratize business education, and was declared the Best Spanish Startup in 2020 by LinkedIn.
Overthe last few years, Gonzalo has created Data Applications for several companies such as Roche and ThePowerMBA, always from scratch, giving him a broad vision of all stages of data.
ThePowerMBA uses Retool to create internal dashboards and admin panels for various internal departments. Gonzalo will share how they build queries from different sources like MongoDB and present analytical findings visually, with the objective to make ThePowerMBA a data-driven company.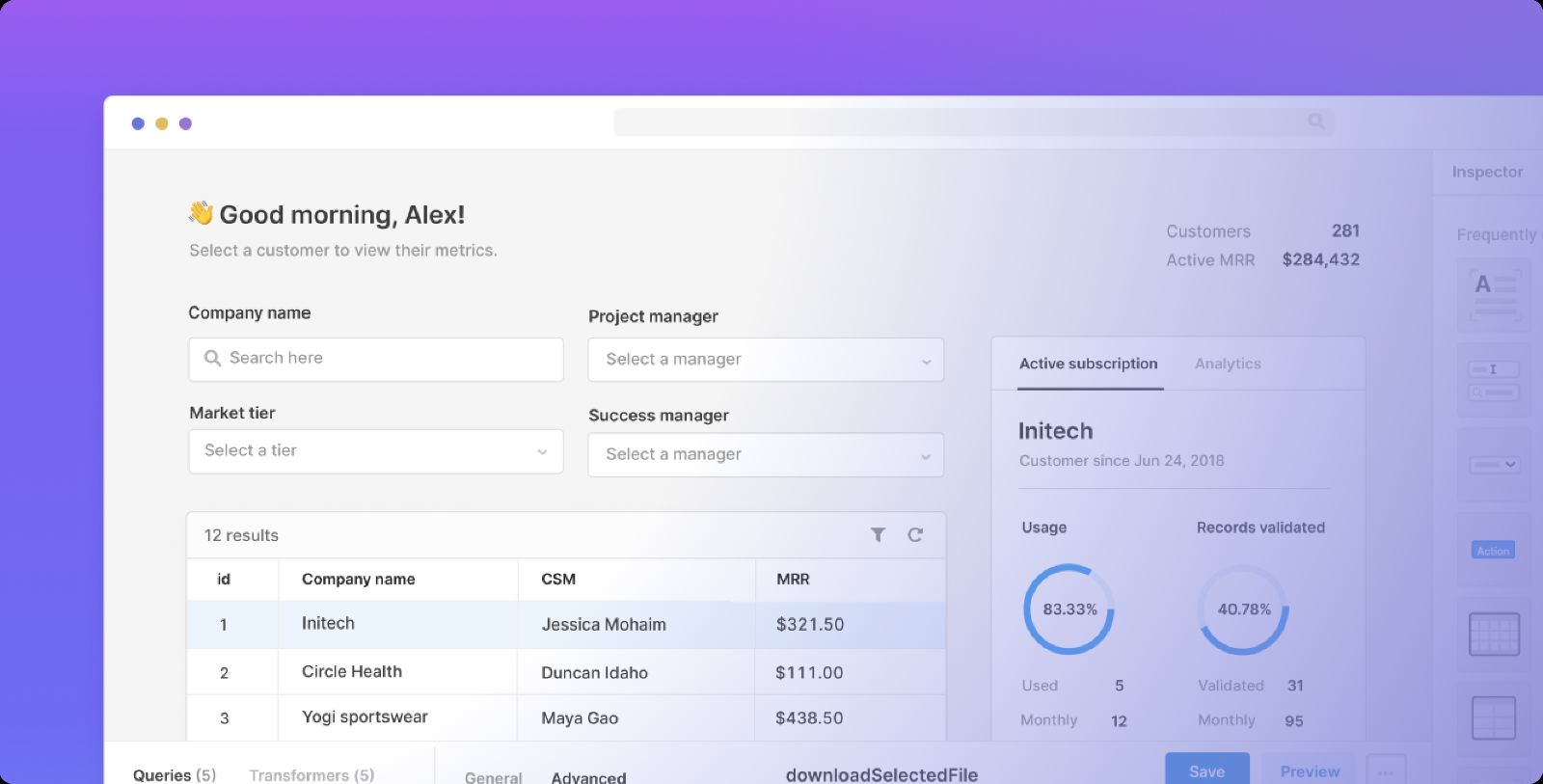 10:00 am – Introduction
10:05 am – Speaker Presentations
10-minute presentations
10:35 am – Panel Q&A
Deep dive and Q&A
10:55 am – Closing Remarks
Coming to a Zoom near you
days
hours
minutes
seconds
days
hours
minutes
seconds
RSVP to join live. If you can't make it, we'll send the recording.
Please share widely. See you there!